Trains, Skates and Running Shoes
Take a Walking Tour of Boston Landing with ACEC/MA
Monday, September 25, 2017
Rail Stop at Boston Landing, 96 Guest St, Boston, MA
2 PDHs*
#ACECMAEvent @ACECMA

$65 Member $100 Non-member $25 Government Employee
---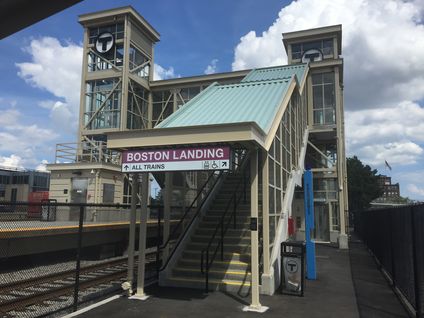 4:45 PM Registration at Rail Stop Restaurant
5:00 PM Walking Tour, including stops @ Boston Landing Station, New Balance HQ, Warrior Ice Arena and more
6 - 7:00 PM Program & Reception inside Rail Stop Restaurant
Guides and Speakers
Ellen DeNooyer, Senior Project Manager, MBTA
Keith Craig, Director, NB Development Group
Mark Adrean, Senior Engineer, PMA Consultants
Brian Golden, Director, Boston Planning & Development Agency
Join ACEC/MA for a walking tour of Boston Landing for a Fun Fall Tour which includes stops at MBTA's Boston Landing Station, New Balance HQ, Boston Bruins' Warrior Ice Arena & more.

Learn about this new development – opportunities and challenges- with guides from the MBTA, NB Development, & PMA Consultants

After the tour meet us @ Rail Stop Restaurant for appetizers, drinks, Q&A with our guides & networking.
American Council of Engineering Companies of Massachusetts,
The Engineering Center, One Walnut Street, Boston, MA 02108-3616
Fax: (617) 227-6783 Email: acecma@engineers.org

For more information about sponsorship, contact Elizabeth Tyminski
2017 ACEC/MA Corporate Sponsors
Platinum
Gold
Silver
Donovan Hatem LLP
Stantec
VHB

Architectural Engineers, Inc.
CDM Smith Inc.
Green International Affiliates, Inc.
HDR
HNTB Corporation
Microdesk
Nitsch Engineering
TranSystems

Alfred Benesch & Co.
BSC Group
City Point Partners, LLC
Dewberry
Haley and Ward, Inc.
Hazen & Sawyer
HMMH
Howard Stein Hudson
Hoyle, Tanner & Associates, Inc.
McFarland Johnson
Stacey DePasquale Engineering (SDE)
STV Incorporated
Weston & Sampson

For information about ACEC/MA Membership or to join an ACEC/MA Committee or Forum, contact: acecma@engineers.org or call 617-227-5551.