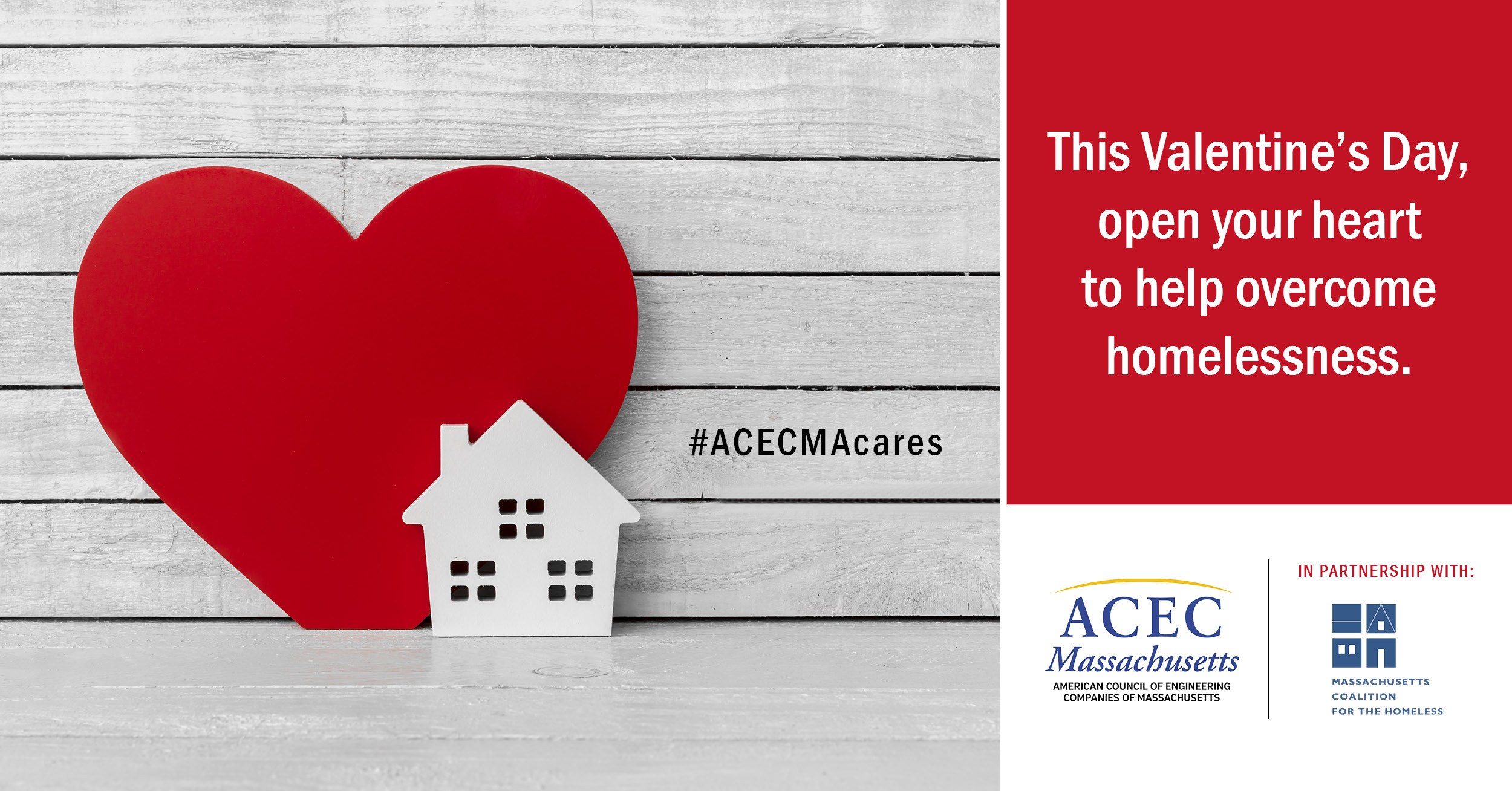 #ACECMACares
We want to help those who have been severely impacted by COVID-19. Please join ACEC/MA in supporting the Massachusetts Coalition for the Homeless.
Our goal is to raise $25,000. DONATE TODAY and you can help make a difference for those who need a place to call home!
Our campaign runs through February 28, 2021.
Help us meet our goal of $25,000 in donations by the end of February: Donate here
Please join ACEC/MA in supporting the great work of the Massachusetts Coalition for the Homeless now through the end of February. Contributions can be by firm or by individual.
During these challenging times, ACEC/MA and our members are looking to help. We're working In partnership with the Massachusetts Coalition for the Homeless for a targeted effort in February.
Make your donation today
For nearly 40 years, The Massachusetts Coalition for the Homeless (MCH) has been committed to tackling difficult problems that impact families and individuals who are currently experiencing homelessness or facing an imminent housing, health, or benefit crisis.​
The current work our Advocates are doing is needed now more than any other time in MCH's history, we are dedicated to continuing to raise awareness of the accelerating challenges that arise due to poverty and homelessness.​
Over the years, MCH has implemented many different programs to serve the unmet needs of our community. Currently MCH provides food & material goods, housing and homelessness prevention support services, education, advocacy, and community engagement opportunities.
​Every day, MCH is committed to ensuring that any one is need has the necessary supports in place, to help stabilize a housing crisis they are facing, preventing homelessness or end homelessness across Massachusetts.
With your support today, will ensure MCH will continue to serve as a lifeline for those in need.
If you have any questions, please contact Tina Baptista, Program Director, MCH or Dennis Baker, President, American Council of Engineering Companies of Massachusetts (ACEC/MA)
Thank you!