Updated 2/1/21:
How Will the Shift to Renewables be Impacted in a Post-Pandemic World? Sustainability and Renewables in a Post-Pandemic World
February 11, 2021, 2 PM Eastern
Register
Note, you will need an ACEC National Login and Password to register for this free webinar; see more here: https://netforum.acec.org/eWeb/DynamicPage.aspx?webcode=acecdupcheck
The pandemic has caused a great deal of disruption throughout the economy and its impacts will be felt for many years. The A/E industry is not immune from these long-lasting impacts, including a resumption of Climate Change Policies and Programs as a major initiative by government and Energy Producers. In this fourth installment in an ongoing series of future-focused roundtables, the ACEC Research Institute will examine the potential impact of Renewables and Sustainability on energy policies going forward with a focus on Climate Change driven projects. This roundtable will address the following areas:
Is NetZero in danger of falling to the wayside in a post-pandemic world, or will it re-emerge as a major initiative by both Private and Public sectors?
Should firms increase their focus on Climate Change driven programs including Renewables, Sustainability and Resiliency?
How will design needs differ between urban, suburban and rural buildings?
How do you staff your firm in terms of skill sets for the future of energy efficient design?
Panelists:
Lisa C. Moerner, Director Innovation & Sustainability Technology, Dominion Energy Services, Inc.
Tommy Wells, Director, Department of Energy and Environment, Washington DC.
Roger Frechette III, PE, Managing Principal, Interface Engineering.
Zoe Haseman, Vice President Global Sustainability, Jacobs.
Moderator: Joseph Bates, ACEC Research Institute.
To the ACEC Community,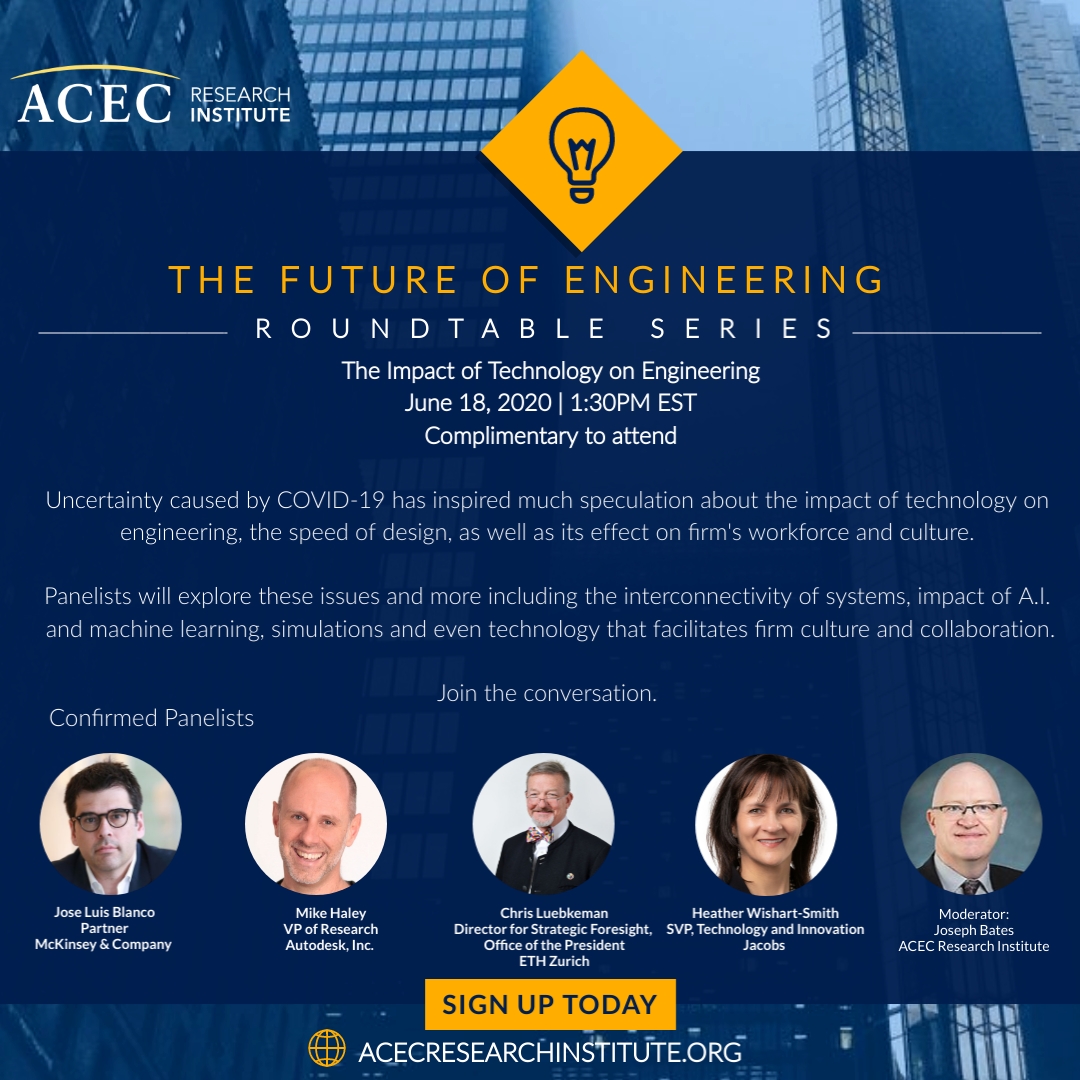 In my discussions with members and from responses to our complimentary COVID-19 online programs, many firms are emerging from crisis mode and looking at how they can adapt to the new normal. That makes sense. While the pandemic continues to pose a serious threat and everyone needs to exercise caution, we still have to look ahead and plan for the future.
So what's next? What will the engineering industry look like in the near-term and the long-term? And what do you need to do to prepare your firm and your career? The ACEC Research Institute has developed a series of virtual roundtables to help you answer those questions. Over the next month, the Institute will offer three free programs with experts discussing the key issues facing engineering firms over the coming years. You're invited to participate, listen to the conversations, and ask questions.
The first of these roundtables is a week from tomorrow, on June 18 at 1:30 pm ET. An impressive panel of experts will address The Impact of Technology on Engineering.
The uncertainty caused by COVID-19 has inspired much speculation about the impact of technology on engineering, both on the speed of design and on a firm's workforce and culture. The panelists will explore these issues, as well as the interconnectivity of systems, the impact of A.I. and machine learning, simulations, and technology that facilitates firm culture and collaboration.
Addressing these issues will be Jose Luis Blanco, partner, McKinsey & Company; Mike Haley, Head of Machine Intelligence, Autodesk; Chris Luebkeman, Director of Strategic Foresight, Office of the President, ETH Zurich; and Heather Wishart-Smith, SVP of Technology and Innovation, Jacobs. Joseph Bates of the Institute will moderate the discussion.
One week later, on June 25, the Institute will present The Buildings We Live and Work In, which will consider the lasting impacts of the pandemic on the design of the commercial, high-rise, healthcare, and mixed-use buildings of the future; and on July 16, an expert panel will discuss Funding in the New Normal, looking at how and when the U.S. economy will recover, which market sectors will lead the way, and what do firms need to do to ensure they aren't left behind?
These will be open discussions and have been designed to promote audience participation. I encourage you to contribute questions before the program to help guide the discussion and then to ask questions of the experts during the sessions.
The roundtables will be an opportunity for each of us to step back from today's pressing issues and consider tomorrow's possibilities. I urge you to take the time. You will gain invaluable foundation material upon which to build for your firm's future.
Cheers,
Linda Bauer Darr
From 6/3/2020
To the ACEC Community,
What will the engineering industry look like post-COVID-19 and will your firm be prepared?
Even as we grapple with the day-to-day impact of the pandemic on our firms and our industry, we must plan for the future because regardless of how and when this crisis eventually abates, engineering firms will be integral to the re-opening and growth of the economy.
When we launched the ACEC Research Institute earlier this year, Institute Chair John Carrato and Vice-Chair Mike Carragher tasked us with looking into the future of the engineering industry and figuring out what it will mean to firms. Of course, no one anticipated a watershed event such as the COVID-19 pandemic. Rather than researching incremental change, we're facing a tsunami of uncertainty.
Extraordinary challenges call for extraordinary responses and once again John and Mike came up with the goods. Over the next two months, the Institute will convene three virtual roundtables of experts addressing key questions facing engineering firms. And we're inviting all ACEC members—and non-members—to sit in, listen to the conversations, ask questions, and demonstrate thought leadership.
June 18 Panel: The Impact of Technology on Engineering (1:30 pm ET)
Given the dramatic impact that COVID-19 has had on the workforce and operation of engineering firms, the panelists will discuss technological tools to speed the design process and enhance culture and collaboration, as well as explore the interconnectivity of systems and the potential impact of AI and machine learning.
Panelists will be Autodesk Head of Machine Intelligence Mike Haley, Jacobs SVP of Technology and Innovation Heather Wishart-Smith, Arup Director of Global Foresight & Innovation Chris Luebkeman, and McKinsey & Company Partner Jose Luis Blanco.
June 25 Panel: The Buildings We Live and Work In (3:30 pm ET)
What lasting impact will the pandemic have on the design of the commercial, high-rise, healthcare, and mixed-use buildings of the future? And what will change for firms when designing work and living spaces in this new paradigm?
We will pose these questions and more to an outstanding panel: Thornton Tomasetti Co-CEO Peter DiMaggio, Co-CEO, HR&A Advisors Partner Kate Wittels, AKF Managing Partner Dino DeFeo, and Skidmore, Owings & Merrill Associate Director Arathi Gowda.
July 16 Panel: Funding in the New Normal (1:30 pm ET)
When the U.S. economy recovers, what direction will it take, which market sectors will lead the way, and what do firms need to do to ensure they aren't left behind? Our panelists will tackle these tough questions so firms will be better positioned to take maximum advantage of the market. The panelists will also address the impact of the federal deficit, recessionary challenges, and new funding mechanisms.
The panel includes Former Manchester Airport Group Chair Rosemarie Andolino, Harvard Kennedy School's Taubman Center for State and Local Government Visiting Fellow David Zipper, Sage Policy Group Chairman and CEO Anirban Basu, and Eno Center for Transportation Senior Fellow Jeff Davis.
I'm really looking forward to these roundtables. I'm certain they will be informative and thought-provoking and the springboard for many more conversations over the coming months. I urge you to participate in these sessions and to invite your colleagues to join us.
Cheers,
Linda Bauer Darr