ACEC/MA Government Affairs Update: May 2017
Next ACEC/MA Government Affairs Committee Meeting: May 19, 2017, 10 AM at Aldrich Center at The Engineering Center.
For call-in information, contact acecma@engineers.org

ACEC/MA Bill Tracking Report - April 25, 2017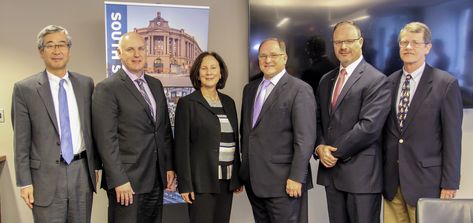 ACEC/MA Engineering community leaders recently met with Congressman Mike Capuano (D-Massachusetts) in Boston

From left: Ko Ishikura (Green International Affiliates), Phil Brake (HNTB), Robin Greenleaf (Architectural Engineers, Inc & PAC Champion), Congressman Capuano, Gary Bua (HNTB), Dennis Coffey (HNTB & PAC Champion)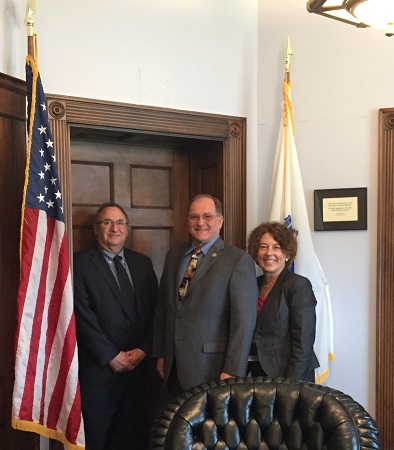 ACEC/MA Engineering community leaders recently met with Congressman Mike Capuano (D-Massachusetts) in Washington, DC

From left: Bill Hadge (GZA GeoEnvironmental), Congressman Capuano, Abbie Goodman (ACEC/MA Executive Director)
---
March Revenues Widen FY17 Budget Gap - courtesy of Rasky Partners Inc.
March tax revenues were $81 million below budget benchmarks for the month, opening up a $220 million gap. Income tax collections of $889 million in March were 1.1 percent below the benchmark, while the $451 million collected in sales taxes missed targets by 2.1 percent. Corporate and business taxes also fell below 2016 levels by $27 million.

While the state has taken in $18.1 billion this fiscal year, representing a 1.7 percent growth over the same period last year, year-to-date revenues remain below the projected benchmarks. In March, Governor Baker's budget Chief Kristen Lepore would not rule out another round of emergency cuts if the revenue gap worsened in March. Lepore and the Department of Revenue stated that they will be carefully monitoring the last three months of the fiscal year, as they contribute roughly 30 percent of the Commonwealth's tax collections for the year.

Rosenberg Suggests Tax on Services - courtesy of Rasky Partners Inc.
While addressing the Greater Boston Chamber of Commerce in early April, Senate President Stanley Rosenberg said that Massachusetts should discuss imposing a tax on services. Rosenberg stated that Massachusetts has a sales tax that applies to goods, but not services, even though our economy is largely driven by services.

This would not be the first time the state has attempted to tax services. A business and professional services sales tax was passed in the 1990's, but it was quickly repealed by the Weld administration. Then in 2013, lawmakers attempted to establish a sales tax on certain computer services. They ultimately repealed the tax amid an outcry from businesses.

Rosenberg noted that he is not aware of any formal proposals to establish a sales tax on services in the legislature, and that he would assume that any action towards a service tax would begin after the 2018 election.
Here for Reference
Legislative Leadership for 2017-2018 Legislative Session

In February, House and Senate leaders assigned members to committees and leadership positions. The process of scheduling public hearings on the more than 5,700 bills filed by House and Senate lawmakers can begin now that committees are constituted.

Below is a complete list of leadership positions in both branches, House standing committees, Senate standing committees, and joint committees.

Senate Leadership
Senate President -- Stanley Rosenberg
Majority Leader -- Harriette Chandler
President Pro Tempore -- Marc Pacheco
Asst. Majority Leader -- Cynthia Creem
Asst. Majority Leader -- Mark Montigny
Majority Whip -- Michael Rodrigues
Asst. Majority Whip -- Linda Forry
Asst. Majority Whip -- Joan Lovely
Senate Minority Leader -- Bruce Tarr
Asst. Minority Leader -- Donald Humason
Asst. Minority Leader -- Richard Ross
Minority Whip -- Ryan Fattman
Asst. Minority Whip -- Patrick O'Connor

House Leadership
House Speaker -- Robert DeLeo
Majority Leader -- Ronald Mariano
Speaker Pro Tempore -- Patricia Haddad
Asst. Majority Leader -- Byron Rushing
Second Asst. Majority Leader -- Paul Donato
Second Asst. Majority Leader -- Michael Moran
First Division Chair -- Ann-Margaret Ferrante
Second Division Chair -- David Nangle
Third Division Chair -- Sarah Peake
Fourth Division Chair -- Louis Kafka
House Minority Leader -- Bradley Jones
Asst. Minority Leader -- Brad Hill
Second Asst. Minority Leader -- Elizabeth Poirier
Third Asst. Minority Leader -- Susan Williams Gifford
Third Asst. Minority Leader -- Paul Frost

SENATE STANDING COMMITTEES
Ways and Means Committee
Sen. Karen Spilka -- Chair
Sen. Sal DiDomenico -- Vice Chair
Sen. Patricia Jehlen -- Asst. Vice Chair
Sen. William Brownsberger
Sen. Sonia Chang-Diaz
Sen. Eileen Donoghue
Sen. Jamie Eldridge
Sen. John Keenan
Sen. Joan Lovely
Sen. Thomas McGee
Sen. Michael Moore
Sen. Kathleen O'Connor Ives
Sen. Michael Rush
Sen. James Timilty
Sen. Vinny deMacedo -- Ranking Minority Member
Sen. Richard Ross
Sen. Donald Humason

Rules Committee
Sen. Mark Montigny -- Chair
Sen. Karen Spilka -- Vice Chair
Sen. Eileen Donoghue
Sen. James Welch
Sen. Donald Humason -- Ranking Minority Member
Sen. Vinny deMacedo

Ethics Committee
Sen. Michael Rodrigues -- Chair
Sen. William Brownsberger -- Vice Chair
Sen. Cynthia Creem
Sen. Sal DiDomenico
Sen. Richard Ross -- Ranking Minority Member
Sen. Bruce Tarr

Committee on Bills in Third Reading
Sen. Cynthia Creem -- Chair
Sen. Barbara L'Italien -- Vice Chair
Sen. Ken Donnelly
Sen. Anne Gobi
Sen. Bruce Tarr

Committee on Post Audit and Oversight
Sen. Kathleen O'Connor Ives -- Chair
Sen. James Welch -- Vice Chair
Sen. Michael Moore
Sen. Thomas McGee
Sen. Anne Gobi
Sen. Ryan Fattman -- Ranking Minority Member
Sen. Bruce Tarr

Committee on Steering and Policy
Sen. Eileen Donoghue -- Chair
Sen. John Keenan -- Vice Chair
Sen. Jamie Eldridge
Sen. Cynthia Creem
Sen. Bruce Tarr

Committee on Bonding, Capital Expenditures and State Assets
Sen. John Keenan -- Chair
Sen. Thomas McGee -- Vice Chair
Sen. Michael Moore
Sen. Anne Gobi
Sen. Walter Timilty
Sen. Donald Humason -- Ranking Minority Member
Sen. Vinny deMacedo

Committee on Personnel and Administration
Sen. Michael Rush -- Chair
Sen. Kathleen O'Connor Ives -- Vice Chair
Sen. Michael Rodrigues
Sen. Michael Barrett
Sen. Marc Pacheco
Sen. Patrick O'Connor -- Ranking Minority Member
Sen. Vinny deMacedo

Committee on Global Warming and Climate Change
Sen. Marc Pacheco -- Chair
Sen. Jamie Eldridge -- Vice Chair
Sen. Michael Barrett
Sen. Joseph Boncore
Sen. Jason Lewis
Sen. Patrick O'Connor

Committee on Intergovernmental Affairs
Sen. Sal DiDomenico -- Chair
Sen. Linda Forry -- Vice Chair
Sen. Eric Lesser
Sen. Jamie Eldridge
Sen. Adam Hinds
Sen. Donald Humason

Committee on Redistricting
Sen. Harriette Chandler -- Chair
Sen. Michael Rodrigues -- Vice Chair
Sen. Barbara L'Italien
Sen. James Timilty
Sen. James Welch
Sen. Bruce Tarr

HOUSE STANDING COMMITTEES
Ways and Means
Rep. Brian Dempsey -- Chair
Rep. Stephen Kilik -- Vice Chair
Rep. Elizabeth Malia -- Asst. Vice Chair
Rep. James Miceli
Rep. Thomas Walsh
Rep. Robert Koczera
Rep. Thomas Stanley
Rep. Sean Garballey
Rep. James Arciero
Rep. Brian Ashe
Rep. Tricia Farley-Bouvier
Rep. Russell Holmes
Rep. Josh Cutler
Rep. Mary Keefe
Rep. David Rogers
Rep. Alan Silvia
Rep. Daniel Cullinane
Rep. Carole Fiola
Rep. Daniel Hunt
Rep. RoseLee Vincent
Rep. Evandro Carvalho
Rep. Carmine Gentile
Rep. Carlos Gonzalez
Rep. Joseph McGonagle
Rep. Rady Mom
Rep. Paul Tucker
Rep. Adrian Madaro
Rep. Gerard Cassidy
Rep. Todd Smola -- Ranking House Minority Member
Rep. Angelo D'Emilia -- Asst. Ranking House Minority Member
Rep. Donald Berthiaume
Rep. Nicholas Boldyga
Rep. Kate Campanale
Rep. Shawn Dooley
Rep. Timothy Whelan
Rep. Donald Wong

Rules Committee
Rep. William Galvin -- Chair
Rep. Marjorie Decker -- Vice Chair
Rep. Byron Rushing
Rep. Louis Kafka
Rep. Joseph Wagner
Rep. Ronald Mariano
Rep. David Nangle
Rep. Paul Donato
Rep. Patricia Haddad
Rep. Michael Moran
Rep. Sarah Peake
Rep. Ann-Margaret Ferrante
Rep. Kimberley Ferguson -- Ranking Minority Member
Rep. David Vieira -- Asst. Ranking Minority Member
Rep. Sheila Harrington

Committee on Bills in Third Reading
Rep. Ted Speliotis -- Chair
Rep. Frank Moran -- Vice Chair
Rep. Angelo D'Emilia

Committee on Bonding, Capital Expenditures and State Assets
Rep. Antonio Cabral -- Chair
Rep. Ruth Balser -- Vice Chair
Rep. Angelo Scaccia
Rep. James Dwyer
Rep. Ken Gordon
Rep. Daniel Donahue
Rep. Michelle DuBois
Rep. Michael Connolly
Rep. William Driscoll
Rep. David Vieira -- Ranking Minority Member
Rep. Kevin Kuros

Ethics Committee
Rep. Chris Markey -- Chair
Rep. Daniel Cullinane -- Vice Chair
Rep. Byron Rushing
Rep. Paul Donato
Rep. Patricia Haddad
Rep. Peter Kocot
Rep. Sarah Peake
Rep. Elizabeth Poirier -- Ranking Minority Member
Rep. Jay Barrows -- Asst. Ranking Minority Member
Rep. Marc Lombardo
Rep. Susannah Whipps

Committee on Global Warming and Climate Change
Rep. Frank Smizik -- Chair
Rep. James Miceli -- Vice Chair
Rep. Denise Provost
Rep. Thomas Calter
Rep. Jonathan Hecht
Rep. Jonathan Zlotnik
Rep. Carlos Gonzalez
Rep. Gerard Cassidy
Rep. Brian Murray
Rep. Geoff Diehl -- Ranking Minority Member
Rep. Kate Campanale

Committee on Personnel and Administration
Rep. Paul McMurtry -- Chair
Rep. Carole Fiola -- Vice Chair
Rep. James Miceli
Rep. Louis Kafka
Rep. John Rogers
Rep. Colleen Garry
Rep. David Nangle
Rep. Solomon Goldstein-Rose
Rep. Juana Matias
Rep. James Lyons -- Ranking Minority Member
Rep. Angelo D'Emilia -- Asst. Ranking Minority Member
Rep. Kimberly Ferguson
Rep. Sheila Harrington

Committee on Post Audit and Oversight
Rep. David Linskey -- Chair
Rep. William "Smitty" Pignatelli -- Vice Chair
Rep. Thomas Stanley
Rep. Linda Dean Campbell
Rep. Jay Livingstone
Rep. Michael Finn
Rep. Michael Day
Rep. Daniel Ryan
Rep. Joan Meschino
Rep. Peter Durant -- Ranking Minority Member
Rep. Shaunna O'Connell

Committee on Redistricting
Rep. Paul Mark -- Chair
Rep. Daniel Donahue -- Vice Chair
Rep. Angleo Scaccia
Rep. Colleen Garry
Rep. Sean Garballey
Rep. Frank Moran
Rep. David Rogers
Rep. Jose Tosado
Rep. Dylan Fernandes
Rep. Paul Frost -- Ranking Minority Member
Rep. Steven Howitt

Committee on Steering, Policy and Scheduling
Rep. James Murphy -- Chair
Rep. Thomas Petrolati -- Vice Chair
Rep. James Dwyer
Rep. Ann-Margaret Ferrante
Rep. Josh Cutler
Rep. Diana DiZoglio
Rep. Paul Heroux
Rep. Michelle DuBois
Rep. Michael Connolly
Rep. Brad Hill -- Ranking Minority Member
Rep. Susan Williams Gifford

Committee on Technology and Intergovernmental Affairs
Rep. Angelo Puppolo -- Chair
Rep. Robert Koczera -- Vice Chair
Rep. Thomas Calter
Rep. Tricia Farley-Bouvier
Rep. Jonathan Zlotnik
Rep. Evandro Carvalho
Rep. Carlos Gonzalez
Rep. Gerard Cassidy
Rep. Natalie Higgins
Rep. Marc Lombardo -- Ranking Minority Member
Rep. Geoff Diehl

JOINT COMMITTEES
Joint Committee on Children, Families and Persons with Disabilities
Rep. Kay Khan -- House Chair
Sen. Jennifer Flanagan -- Senate Chair
Rep. Aaron Vega -- House Vice Chair
Sen. Joan Lovely -- Senate Vice Chair
Rep. John Rogers
Rep. Carolyn Dykema
Rep. Jonathan Hecht
Rep. Paul Schmid
Rep. Tricia Farley-Bouvier
Rep. Steven Ultrino
Rep. Jack Lewis
Sen. Linda Forry
Sen. Julian Cyr
Sen. Thomas McGee
Rep. Shaunna O'Connell -- Ranking House Minority Member
Rep. William Crocker
Sen. Donald Humason

Joint Committee on Community Development and Small Business
Rep. Edward Coppinger -- House Chair
Sen. Julian Cyr -- Senate Chair
Rep. Josh Cutler -- House Vice Chair
Sen. Jamie Eldrdige -- Senate Vice Chair
Rep. Thomas Calter
Rep. Kenneth Gordon
Rep. Daniel Cullinane
Rep. Brendan Crighton
Rep. Carlos Gonzalez
Rep. Natalie Higgins
Rep. Joan Meschino
Sen. Anne Gobi
Sen. Sonia Chang-Diaz
Sen. Sal DiDomenico
Rep. Leonard Mirra -- Ranking House Minority Member
Rep. Joseph McKenna
Sen. Vinny deMacedo

Joint Committee on Consumer Protection and Professional Licensure
Rep. Jennifer Benson -- House Chair
Sen. Barbara L'Italien -- Senate Chair
Rep. Daniel Hunt -- House Vice Chair
Sen. James Timilty -- Senate Vice Chair
Rep. Ruth Balser
Rep. James Arciero
Rep. William "Smitty" Pignatelli
Rep. Jay Livingstone
Rep. Jonathan Zlotnik
Rep. Jose Tosado
Rep. Juana Matias
Sen. Michael Brady
Sen. Sal DiDomenico
Sen. Jennifer Flanagan
Rep. Steven Howitt -- Ranking House Minority Member
Rep. Joseph McKenna
Sen. Ryan Fattman

Joint Committee on Economic Development and Emerging Technologies
Rep. Joseph Wagner -- House Chair
Sen. Eric Lesser -- Senate Chair
Rep. Nick Collins -- House Vice Chair
Sen. Adam Hinds -- Senate Vice Chair
Rep. Sean Garballey
Rep. Chris Walsh
Rep. Frank Moran
Rep. Carole Fiola
Rep. Brendan Crighton
Rep. Stephan Hay
Rep. Brian Murray
Rep. Bud Williams
Sen. Thomas McGee
Sen. Sonia Chang-Diaz
Sen. Marc Pacheco
Sen. Michael Barrett
Rep. Keiko Orrall -- Ranking House Minority Member
Rep. Kevin Kuros -- Asst. Ranking House Minority Member
Rep. James Kelcourse
Sen. Patrick O'Connor

Joint Committee on Education
Rep. Alice Hanlon Peisch -- House Chair
Sen. Sonia Chang-Diaz -- Senate Chair
Rep. Chris Walsh -- House Vice Chair
Sen. Patricia Jehlen -- Senate Vice Chair
Rep. John Rogers
Rep. William "Smitty" Pignatelli
Rep. James Cantwell
Rep. Diana DiZoglio
Rep. Paul Tucker
Rep. Chynah Tyler
Rep. Bud Williams
Sen. Jason Lewis
Sen. Barbara L'Italien
Sen. Michael Barrett
Rep. Kimberly Ferguson -- Ranking House Minority Member
Rep. James Kelcourse
Sen. Patrick O'Connor

Joint Committee on Elder Affairs
Rep. Danielle Gregoire -- House Chair
Sen. Barbara L'Italien -- Senate Chair
Rep. Brian Ashe -- House Vice Chair
Sen. Julian Cyr -- Senate Vice Chair
Rep. Bruce Ayers
Rep. Marjorie Decker
Rep. Paul Heroux
Rep. Jonathan Zlotnik
Rep. Carmine Gentile
Rep. Joseph McGonagle
Rep. Steven Ultrino
Sen. Patricia Jehlen
Sen. Eric Lesser
Sen. Walter Timilty
Rep. Kate Campanale -- Ranking House Minority Member
Rep. David Muradian
Sen. Ryan Fattman

Joint Committee on Election Laws
Rep. John Mahoney -- House Chair
Sen. Anne Gobi -- Senate Chair
Rep. Kenneth Gordon -- House Vice Chair
Sen. Michael Barrett -- Senate Vice Chair
Rep. Jonathan Hecht
Rep. Tackey Chan
Rep. Russell Holmes
Rep. Diana DiZoglio
Rep. Alan Silvia
Rep. Evandro Carvalho
Rep. Joseph McGonagle
Sen. Kathleen O'Connor Ives
Sen. Patricia Jehlen
Sen. Jason Lewis
Rep. Nicholas Boldyga -- Ranking House Minority Member
Rep. Marc Lombardo
Sen. Ryan Fattman

Joint Committee on Environment, Natural Resources and Agriculture
Rep. Gailanne Cariddi -- House Chair
Sen. Anne Gobi -- Senate Chair
Rep. RoseLee Vincent -- House Vice Chair
Sen. Michael Rush -- Senate Vice Chair
Rep. Thomas Petrolati
Rep. Robert Koczera
Rep. Mary Keefe
Rep. John Velis
Rep. Christine Barber
Rep. Dylan Fernandes
Rep. Jack Lewis
Sen. James Timilty
Sen. Jamies Eldridge
Sen. Thomas McGee
Rep. Donald Berthiaume -- Ranking House Minority Member
Rep. James Kelcourse
Sen. Ryan Fattman

Joint Committee on Export Development
Rep. Lori Ehrlich -- House Chair
Sen. Eileen Donoghue -- Senate Chair
Rep. James Arciero -- House Vice Chair
Sen. Mark Montigny -- Senate Vice Chair
Rep. Bruce Ayers
Rep. Denise Provost
Rep. Thomas Calter
Rep. David Rogers
Rep. Jeffrey Roy
Rep. Daniel Cahill
Rep. William Driscoll
Sen. Michael Rodridgues
Sen. Linda Forry
Sen. Marc Pacheco
Rep. Donald Wong -- Ranking House Minority Member
Rep. Keiko Orrall
Sen. Bruce Tarr

Joint Committee on Financial Services
Rep. Aaron Michlewitz -- House Chair
Rep. Jamie Eldridge -- Senate Chair
Rep. Michael Finn -- House Vice Chair
Sen. Eric Lesser -- Senate Vice Chair
Rep. Thomas Stanley
Rep. Chris Walsh
Rep. Marjorie Decker
Rep. Christine Barber
Rep. Michael Day
Rep. Jose Tosado
Rep. Daniel Cahill
Sen. Joseph Boncore
Sen. John Keenan
Sen. Sal DiDomenico
Rep. Jay Barrows -- Ranking House Minority Member
Rep. Shawn Dooley
Sen. Vinny deMacedo

Joint Committee on Health Care Financing
Rep. Jeffrey Sanchez -- House Chair
Sen. James Welch -- Senate Chair
Rep. Jeffrey Roy -- House Vice Chair
Sen. Joseph Boncore -- Senate Vice Chair
Rep. James Cantwell
Rep. Carolyn Dykema
Rep. Tackey Chan
Rep. Daniel Cullinane
Rep. Daniel Donahue
Rep. John Velis
Rep. Carmine Gentile
Rep. Steven Ultrino
Sen. Michael Barrett
Sen. Barbara L'Italien
Sen. Eric Lesser
Sen. Jason Lewis
Rep. Randy Hunt -- Ranking House Minority Member
Rep. Mathew Muratore -- Asst. Ranking House Minority Member
Rep. Leonard Mirra
Sen. Bruce Tarr

Joint Committee on Higher Education
Rep. John Scibak -- House Chair
Sen. Michael Moore -- Senate Chair
Rep. Sean Garballey -- House Vice Chair
Sen. Eileen Donoghue -- Senate Vice Chair
Rep. Thomas Petrolati
Rep. Denise Provost
Rep. Aaron Vega
Rep. Rady Mom
Rep. Stephan Hay
Rep. Solomon Goldstein-Rose
Rep. Natalie Higgins
Sen. Adams Hinds
Sen. Eric Lesser
Sen. O'Connor Ives
Rep. Susannah Whipps -- Ranking House Minority Member
Rep. Timothy Whelan
Sen. Richard Ross

Joint Committee on Housing
Rep. Kevin Honan -- House Chair
Sen. Joseph Boncore -- Senate Chair
Rep. Russell Holmes -- House Vice Chair
Sen. Linda Forry -- Senate Vice Chair
Rep. Robert Koczera
Rep. Nick Collins
Rep. Christine Barber
Rep. Carmine Gentile
Rep. Michael Connolly
Rep. Solomon Goldstein-Rose
Rep. Chynah Tyler
Sen. Michael Barrett
Sen. Julian Cyr
Sen. Adam Hinds
Rep. Geoff Diehl -- Ranking House Minority Member
Rep. David DeCoste
Sen. Patrick O'Connor

Joint Committee on the Judiciary
Rep. Claire Cronin -- House Chair
Sen. William Brownsberger -- Senate Chair
Rep. James Cantwell -- House Vice Chair
Sen. Sonia Chang-Diaz -- Senate Vice Chair
Rep. Colleen Garry
Rep. Carole Fiola
Rep. Daniel Hunt
Rep. Michael Day
Rep. Rady Mom
Rep. Paul Tucker
Rep. Bud Williams
Sen. John Keenan
Sen. Cynthia Creem
Sen. Patricia Jehlen
Rep. Sheila Harrington -- Ranking House Minority Member
Rep. James Lyons
Sen. Richard Ross

Joint Committee on Labor and Workforce Development
Rep. Paul Brodeur -- House Chair
Sen. Jason Lewis -- Senate Chair
Rep. Tricia Farley-Bouvier -- House Vice Chair
Sen. Patricia Jehlen -- Senate Vice Chair
Rep. John Rogers
Rep. Elizabeth Malia
Rep. Aaron Vega
Rep. Christine Barber
Rep. Steven Ultrino
Rep. Gerard Cassidy
Rep. Juana Matias
Sen. Sal DiDomenico
Sen. Ken Donnelly
Sen. John Keenan
Rep. Joseph McKenna -- Ranking House Minority Member
Rep. Keiko Orrall
Sen. Patrick O'Connor

Joint Committee on Marijuana Policy
Rep. Mark Cusack -- House Chair
Sen. Patricia Jehlen -- Senate Chair
Rep. David Rogers -- House Vice Chair
Sen. Jason Lewis -- Senate Vice Chair
Rep. Tackey Chan
Rep. Michael Finn
Rep. Aaron Vega
Rep. John Velis
Rep. RoseLee Vincent
Rep. Adrian Madaro
Rep. Stephan Hay
Sen. Jamie Eldridge
Sen. Linda Forry
Sen. James Welch
Rep. Hannah Kane -- Ranking House Minority Member
Rep. Nicholas Boldyga
Sen. Vinny deMacedo

Joint Committee on Mental Health, Substance Use and Recovery
Rep. Denise Garlick -- House Chair
Sen. Jennifer Flanagan -- Senate Chair
Rep. Daniel Ryan -- House Vice Chair
Sen. John Keenan -- Senate Vice Chair
Rep. Angelo Scaccia
Rep. Michael Finn
Rep. Diana DiZoglio
Rep. Jeffrey Roy
Rep. Michael Day
Rep. Jose Tosado
Rep. Dylan Fernandes
Rep. Natalie Higgins
Sen. Ken Donnelly
Sen. Jamie Eldridge
Sen. William Brownsberger
Sen. Adam Hinds
Rep. Susannah Whipps -- Ranking House Minority Member
Rep. William Crocker -- Asst. Ranking House Minority Member
Rep. Shaunna O'Connell
Sen. Richard Ross

Joint Committee on Municipalities and Regional Government
Rep. James O'Day -- House Chair
Sen. Michael Moore -- Senate Chair
Rep. Thomas Stanley -- House Vice Chair
Sen. Walter Timilty -- Senate Vice Chair
Rep. Paul Heroux
Rep. Jeffrey Roy
Rep. Jay Livingstone
Rep. Michelle DuBois
Rep. Stephan Hay
Rep. Dylan Fernandes
Rep. Brian Murray
Sen. Julian Cyr
Sen. Eileen Donoghue
Sen. Adam Hinds
Rep. Donald Wong -- Ranking House Minority Member
Rep. David Muradian
Sen. Patrick O'Connor

Joint Committee on Public Health
Rep. Kate Hogan -- House Chair
Sen. Jason Lewis -- Senate Chair
Rep. Evandro Carvalho -- House Vice Chair
Sen. Jennifer Flanagan -- Senate Vice Chair
Rep. Linda Dean Campbell
Rep. Jonathan Hecht
Rep. Paul Schmid
Rep. Mary Keefe
Rep. Brendan Crighton
Rep. Jack Lewis
Rep. Chynah Tyler
Sen. Julian Cyr
Sen. James Timilty
Sen. Joan Lovely
Rep. Hannah Kane -- Ranking House Minority Member
Rep. James Lyons
Sen. Richard Ross

Joint Committee on Public Safety and Homeland Security
Rep. Harold Naughton -- House Chair
Sen. James Timilty -- Senate Chair
Rep. Alan Silvia -- House Vice Chair
Sen. Michael Moore -- Senate Vice Chair
Rep. Thomas Walsh
Rep. Bruce Ayers
Rep. James Dwyer
Rep. Rady Mom
Rep. Paul Tucker
Rep. Juana Matias
Rep. Chynah Tyler
Rep. Bud Williams
Sen. Michael Brady
Sen. Sonia Chang-Diaz
Sen. Michael Rush
Sen. William Brownsberger
Rep. David Vieira -- Ranking House Minority Member
Rep. David Muradian -- Asst. Ranking House Minority Member
Rep. Peter Durant
Sen. Richard Ross

Joint Committee on Public Service
Rep. Jerald Parisella -- House Chair
Sen. James Timilty -- Senate Chair
Rep. Jay Livingstone -- House Vice Chair
Sen. Ken Donnelly -- Senate Vice Chair
Rep. Elizabeth Malia
Rep. Russell Holmes
Rep. Paul Schmid
Rep. Chris Walsh
Rep. Frank Moran
Rep. Daniel Cahill
Rep. Jack Lewis
Sen. Jennifer Flanagan
Sen. Michael Brady
Sen. William Brownsberger
Rep. Timothy Whelan -- Ranking House Minority Member
Rep. David DeCoste
Sen. Donald Humason

Joint Committee on Revenue
Rep. Jay Kaufman -- House Chair
Sen. Michael Brady -- Senate Chair
Rep. Linda Dean Campbell -- House Vice Chair
Sen. Cynthia Creem -- Senate Vice Chair
Rep. Colleen Garry
Rep. Brian Ashe
Rep. James Dwyer
Rep. Alan Silvia
Rep. Daniel Hunt
Rep. Brendan Crighton
Rep. Brian Murray
Sen. Kathleen O'Connor Ives
Sen. Michael Rodrigues
Sen. Joseph Boncore
Rep. Shawn Dooley -- Ranking House Minority Member
Rep. Peter Durant
Sen. Ryan Fattman

Joint Committee on State Administration and Regulatory Oversight
Rep. Peter Kocot -- House Chair
Sen. Walter Timilty -- Senate Chair
Rep. Paul Schmid -- House Vice Chair
Sen. Joan Lovely -- Senate Vice Chair
Rep. William "Smitty" Pignatelli
Rep. Denise Provost
Rep. Linda Dean Campbell
Rep. Brian Ashe
Rep. Marjorie Decker
Rep. RoseLee Vincent
Rep. William Driscoll
Sen. Jennifer Flanagan
Sen. Michael Moore
Sen. Ken Donnelly
Rep. Kevin Kuros -- Ranking House Minority Member
Rep. Mathew Muratore
Sen. Patrick O'Connor

Joint Committee on Telecommunications, Utilities and Energy
Rep. Thomas Golden -- House Chair
Sen. Michael Barrett -- Senate Chair
Rep. Tackey Chan -- House Vice Chair
Sen. Michael Brady -- Senate Vice Chair
Rep. James Cantwell
Rep. Carolyn Dykema
Rep. Nick Collins
Rep. Josh Cutler
Rep. Adrian Madaro
Rep. Daniel Cahill
Rep. Joan Meschino
Sen. Marc Pacheco
Sen. Anne Gobi
Sen. Joan Lovely
Rep. Leonard Mirra -- Ranking Minority House Member
Rep. Randy Hunt
Sen. Bruce Tarr

Joint Committee on Tourism, Arts and Cultural Development
Rep. Cory Atkins -- House Chair
Sen. Adam Hinds -- Senate Chair
Rep. Bruce Ayers -- House Vice Chair
Sen. Julian Cyr -- Senate Vice Chair
Rep. James Miceli
Rep. Thomas Petrolati
Rep. Thomas Walsh
Rep. Ruth Balser
Rep. Paul Heroux
Rep. Mary Keefe
Rep. Solomon Goldstein-Rose
Sen. Joan Lovely
Sen. Eileen Donoghue
Sen. Sonia Chang-Diaz
Rep. Mathew Muratore -- Ranking House Minority Member
Rep. William Crocker
Sen. Vinny deMacedo

Joint Committee on Transportation
Rep. William Straus -- House Chair
Sen. Thomas McGee -- Senate Chair
Rep. Carolyn Dykema -- House Vice Chair
Sen. Joseph Boncore -- Senate Vice Chair
Rep. Thomas Walsh
Rep. Kenneth Gordon
Rep. Daniel Donahue
Rep. Daniel Ryan
Rep. Joseph McGonagle
Rep. Adrian Madaro
Rep. William Driscoll
Rep. Joan Meschino
Sen. Eric Lesser
Sen. John Keenan
Sen. Linda Forry
Sen. Michael Rush
Rep. Steven Howitt -- Ranking House Minority Member
Rep. Randy Hunt -- Asst. Ranking House Minority Member
Rep. Hannah Kane
Sen. Donald Humason

Joint Committee on Veterans and Federal Affairs
Rep. John Lawn -- House Chair
Sen. Michael Rush -- Senate Chair
Rep. John Velis -- House Vice Chair
Sen. Anne Gobi -- Senate Vice Chair
Rep. Angelo Scaccia
Rep. Ruth Balser
Rep. James Arciero
Rep. Nick Collins
Rep. Daniel Ryan
Rep. Michelle DuBois
Rep. Michael Connolly
Sen. Eric Lesser
Sen. Walter Timilty
Sen. Michael Brady
Rep. David DeCoste -- Ranking House Minority Member
Rep. Donald Berthiaume
Sen. Donald Humason